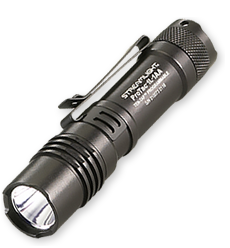 NEW DUAL-FUEL ULTRA-COMPACT FLASHLIGHT
ProTac® 1L-1AA
Our new dual-fuel ProTac® flashlight accepts either a single lithium or alkaline battery, ensuring ultimate flexibility in the field. The ultra-compact size of this new addition to the ProTac family, along with its dual-fuel feature, makes it the perfect everyday carry light.

It provides 350 lumens on high when used with one CR123A lithium battery, and will run for 1.5 hrs. Using one AA alkaline or AA lithium battery, the ProTac® 1L-1AA delivers 150 lumens on high. It runs for 1 hour and 20 minutes on an alkaline battery, and 4.25 hrs. on a AA lithium battery. It also has an IPX7 waterproof rating and features TEN-TAP® Programming.

It is shipped with both an alkaline and a CR123A lithium battery, giving users backup power right from the start.

For more information on the ProTac® 1L-1AA, click here.