EVERY BOAT SHOULD HAVE LIFE PRESERVERS AND A WAYPOINT® RECHARGEABLE LANTERN
If you, your family, your customers, or anyone you care about spends time on a boat, it's important to remember that a Waypoint® lantern can be an important life-saving device. Darkness falls quickly, and losing the ability to see is extremely dangerous.
The Waypoint Rechargeable was designed to be used on or around a boat, (and is even useful to take along when going ashore). Here's why it should be at the top of your "Must Have" equipment list: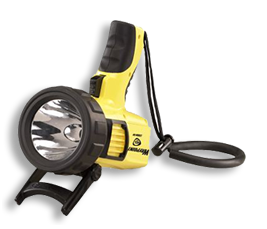 Pistol-grip makes it easy to hold, carry and aim
Integrated stand is simple to set up for hands-free illumination
Waterproof to 2 meters
It floats! If dropped in the water, it will float with the beam shining outward.
Long-reaching (678 meters) with optimum peripheral illumination
Runs 80 hours on low
Fully rechargeable in 4 hours
Bright beam is 1,000 lumens
Don't go out on the water without a Waypoint Rechargeable Lantern.
For more information on the rechargeable model of the Waypoint®, click here.