STREAMLIGHT TV COMMERCIAL WINS TWO TELLY AWARDS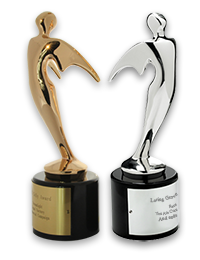 Our commercial titled "Adventures" recently was chosen from 13,000 entries to receive two prestigious Telly Awards. Produced in partnership with Streamlight's creative agency, the Signal Factory of Tulsa, OK, the 30-second television spot won two awards in the Regional TV & Multi-Market Cable category: A Silver Telly, the organization's highest honor, for videography and Cinematography, and a Bronze Telly for Sports and Sporting Goods/Games.

The Telly Awards is the premier award honoring outstanding local, regional, and cable TV commercials and programs, the finest video and film productions, and online commercials, video, and films. Winners represent the best work of the most respected advertising agencies, production companies, television stations, cable operators, and corporate video departments in the world.

The spot features the Double Clutch™ USB, the Trident® headlamp, Stylus Pro® USB, and The Siege® lantern in a variety of outdoor adventures. The message of the spot is that whatever your outdoor adventure – whether it's mountain biking, white water rafting, or camping – Streamlight has a product to suit your needs.