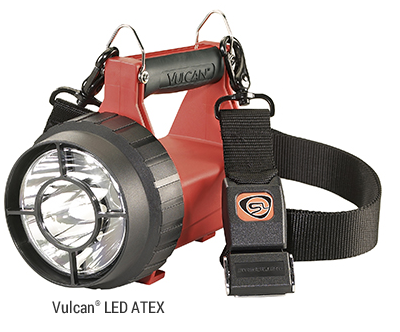 SAFETY-RATED LIGHTS CONTINUE TO BE A TOP PRIORITY
Streamlight already offers a wide variety of safety-rated light options for potentially hazardous environments. In these areas, where flammable gases, liquids, vapors, fibers or combustible dusts may be present, it is simply not safe to use an unrated flashlight. A light that is not specially made and rated for that environment can cause a fire or explosion.
People working in these environments – such as in the mining or gas and oil industries, and in certain agricultural areas, where hazardous dust, fibers or gases are present, have very limited options when selecting flashlights. Streamlight continues to expand their options with safety-rated lights that offer different features, such as run times, intensities, types of beams, and more.
"Manufacturing lights that meet the standards required for safety-ratings is considerably more difficult," according to Mark Hahn, Streamlight's Engineering Support Manager. "It requires a consistent effort that begins with design and continues through the manufacturing process, then through all the steps required to achieve the desired ratings."
Safety-rated products must meet very stringent materials/manufacturing criteria, and must pass strict tests conducted by the various rating boards and independent laboratories. Our lights have been tested and certified by the world's leading test laboratories and rating boards, including Underwriters Laboratories Inc, Demko, the Mine Safety and Health Administration, and ATEX for the European Union (EU) countries.
For more information about specific safety ratings, please visit us online at Streamlight.com.