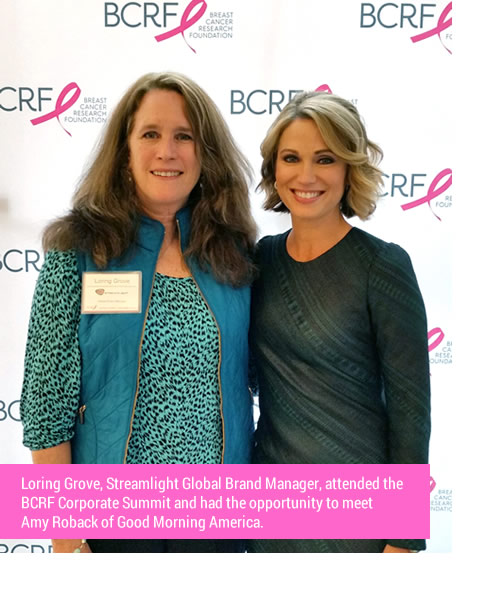 Streamlight Attends Breast Cancer RESEARCH Foundation (BCRF) Corporate Summit
The event included several guest speakers. Amy Robach of ABC's Good Morning America anchor and Author of NYT bestseller, Better. Ms. Robach is a breast cancer survivor, having discovered the disease through a mammogram that she had done as part of an on-air segment.

Dr. Clifford Hudis, Chairman, BCRF advisory board and Chief, Breast Cancer Service, Memorial Sloan Kettering Cancer Center spoke about the selection of the prestigious BCRF board of directors as well as key discoveries that were enabled by BCRF funding.

Christina Rose, Chief Partnership Officer, BCRF showed some surprising statistics about the positive impact causal marketing has on business as well as statistics on BCRF.
92% believe Breast cancer research is an important cause to support and see it as a way to engage with their community.
90% of global customers would switch brands to one associated with a good cause, given comparable price and quality.
70% would pay more for a product with a social benefit.
91% of consumers expect companies to do more than make a profit.
Source: Cone Communications Global CSR Study
Streamlight has been a proud supporter of BCRF for several years, with a donation linked to the sale of all pink flashlights being contributed. BCRF provides critical funding for cancer research worldwide to fuel advances in tumor biology, genetics, prevention, treatment, metastasis and survivorship.
We offer multiple pink light in support of BCRF. For more information on the Pink Nano® Light, click here; Pink Siege® AA, click here; Pink ProTac® HL, click here; Pink Strion LED®, click here.

STREAMLIGHT SUPPORTS CAUSES THAT ARE IMPORTANT TO US
… AND VITAL TO OUR CUSTOMERS
Many of us here at Streamlight have backgrounds in the industries we serve: law enforcement, fire, military, etc. It's no wonder, then, that the causes important to our customers are also close to our own hearts. But the organizations we proudly support go beyond just those industry groups – we also support causes that affect our friends, families and associates.
We designed special colored lights that benefit each of the following organizations, donating a portion of the sales to the cause. The distinctively colored lights also feature the organization's insignia.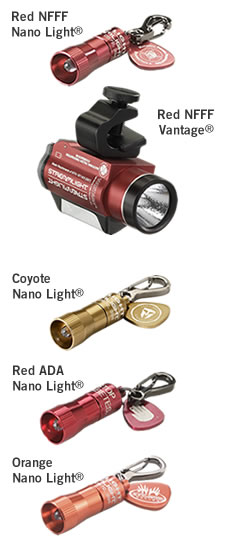 National Fallen Firefighters Association (NFFF)
The NFFF's mission is to honor America's fallen fire heroes, to provide resources to assist their survivors in rebuilding their lives, and to work within the fire service community to reduce firefighter deaths and injuries.
There's a red Nano Light® and a red Vantage® to honor and support NFFF. For more information on the red Nano Light®, click here; red Vantage®, click here.
Concerns of Police Survivors (C.O.P.S.)
Through events, fundraising, and emotional support, C.O.P.S. helps the families and co-workers of police officers killed in the line of duty. Along with our friends, families and associates, Streamlight is holding our 2nd annual Streamlight 5K for C.O.P.S. near our headquarters on June 8. For more information on the walk and to see the flashlights that sponsor C.O.P.S., click here.
 
Travis Manion Foundation
The Travis Manion Foundation honors and assists our nation's veterans, first responders, and the families of fallen heroes through various grants, scholarships and races.
We support the Travis Manion Foundation with a coyote colored Nano Light®. For more information on the Coyote Nano Light®, click here.
American Diabetes Association® Research Foundation
Approximately 30 million Americans have diabetes. The American Diabetes Research Foundation is dedicated to the prevention and cure of diabetes, and to improving the lives of people affected by the disease.
A red Nano Light® has been created to benefit The American Diabetes Foundation. For more information on the Red Nano Light®, click here.
The Buckmasters American Deer Foundation (BADF)
BADF is dedicated to aiding members of our outdoor community who are in need of assistance, whether it's putting food on the table, making the sport of hunting accessible to a disabled hunter, or thanking our American military heroes for their service to our country.
An orange Nano Light® supports BDRF. For more information on the Orange Nano Light®, click here.
$1 from the sale of each special Nano Light® is donated to the organization it honors. The special Siege® AA, ProTac® HL, Strion® and Vantage®  generate $2, $3, $5 and $3 respectively.