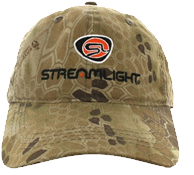 LET STREAMLIGHT-BRANDED CLOTHING AND ACCESSORIES DO THE TALKING

Looking for a different way to promote our brand? How about using Streamlight-branded merchandise and apparel? Wearing the Streamlight name is a great way to make a statement without saying a word.

StreamlightGear.com is the online source for purchasing our branded merchandise. It currently offers hats, shirts, and jackets with the Streamlight logo. Also available are accessory items, such as blankets, pens, golf balls and bags.

When making a purchase, we recommend creating an account if you don't already have one. This allows you to store shipping/billing addresses, track order status, and easily place re-orders.

See all our Streamlight Gear by clicking here.