Eagleville, PA — June 13, 2017 — Streamlight® Inc., a leading provider of high-performance lighting and weapon light/laser sighting devices, announced that JDF Associates has been named the company's 2016 Sales Rep Agency of The Year Award for the Industrial market.
JDF Associates, a manufacturers' representative agency based in Alpharetta, GA, received the award in recognition for outstanding sales achievement in its sales territories, which are located in 20 Eastern U.S. states and Puerto Rico.
"We commend JDF for their contributions to Streamlight's sales efforts in the Industrial sector," said Streamlight Vice President, Sales and Marketing, Michael F. Dineen. "We look forward to our continued relationship with JDF in this strategically important market segment."
For more information about JDF Associates, please visit jdfassoc.com.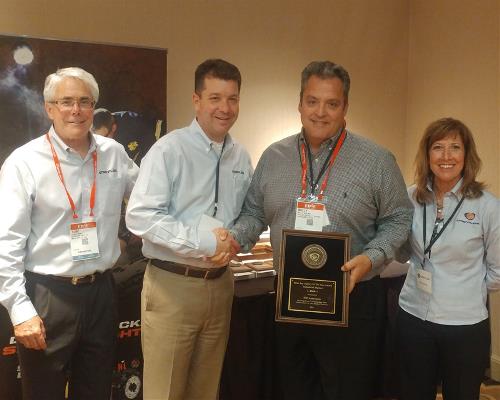 Pictured (left to right): Tom Curry, National Director of Sales, Industrial and Fire, Streamlight; Michael F. Dineen, Vice President of Sales and Marketing, Streamlight; William "Billy" Moore, Executive Vice President — CPMR, JDF Associates; Dawn Dalldorf-Jackson, Director of Sales, Industrial and Fire, Streamlight.